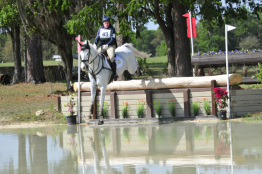 Lauren Ferguson, 33, started her riding career at a young age by participating in a pony ride offered at a school carnival at the age of 9. Who knew that a school carnival pony ride would be the lead-in to an unwavering passion for a dream that then turned into a career.
At the age of 10, Lauren began riding at a three-day event barn where she competed in hunter/jumper shows and joined her local Pony Club. She continued throughout high school eventually purchasing her first horse. Lauren became a working student for Leigh Smith, a CCI**** rider, for two years while attending college at the University of Louisville. During this time she started coaching other riders and taking horses in training. In 2004, Lauren's dedication, work ethic and her true passion for the sport allowed her the opportunity to train with top rider Amy Tryon, in Duvall WA.
Amy is quite the decorated rider as a two-time Olympian, earning the Bronze Medal in the 2004 Olympic Games, and a USA Team member since 1996. In 2006, she and her long time partner, Poggio II, were named by the Chronicle of the Horse as the Eventing Horseman and Horse of the Year. In that same year the USEA named her the Lady Rider of the Year. Other accomplishments include a gold and bronze medal at two World Championships and the United States Eventing Association's Ironmaster Trophy for Courage and Fortitude in 2003. In this world class program, Lauren started as a working student and eventually worked her way up to assistant trainer. Lauren spent 7 years competing and training alongside of Amy, and was able to get hands on experience in training and maintaining upper level event horses and joining in on multiple team trips, including overseas.
Lauren has competed through the 3* Level, and enjoys bringing talented young horses up through the levels while maintining goals of riding at 4* level and one day representing her country and riding for the team. She has multiple students and horses in training, ranging from baby starter up to intermediate/2* level and currently resides at Safe Harbour Barn in Goshen KY.
To read about current events see
news
.
---